 EFFICIENT AND PROVEN HULL
Matchless strength-to-weight and sea-worthiness. Shaping first-class hulls with precision technique and cost-effective production lOW CONSUMPTION
Minimized operating costs and improved environmental impact. For a sustainable and prosperous future. UNMATCHED STRENGH
Confront the elements with confidence. Built for strength, safety and durability. SWIFT SUPPORT
Rest assured and focus on the job. Our skilled tech-nicians are always prepared to offer support.
The ProZero vessels represent the cutting edge of a development process that constantly aims to balance technology innovation, customer demands and industry trends.
This process took flight in 2002 when Tuco launched the first vessels of the now superseded AluGuard series. These vessels have proven themselves over years of service and have benefitted many satisfied customers. Furthermore, our key proficiencies have been tried, perfected and validated through contributions to several large-scale, both national and international, development projects. The technical, empirical and commercial insights and accomplishments gained during many years in the business have been condensed and applied in our state-of-the-art ProZero vessels. The EU acknowledged the potential of the ProZero concept and granted project funding under the Horizon2020 program. Horizon2020 is the principal EU Research and Innovation program aimed at promoting smart, sustainable and research based European growth.
Quality is a keyword at Tuco Marine Group. In our pursuit of excellence, it is crucial that the quality is under complete control. We work nonstop to ensure that our products and services not only fulfill but surpass quality requirements.
Our skilled employees secure high quality at every step in the manufacturing process by performing systematic measurements and continuous monitoring of raw materials, components, assemblies and finished products.
"MERGING UNPARALLELED QUALITY WITH COST-EFFICIENCY AND PROMPT
DELIVERY"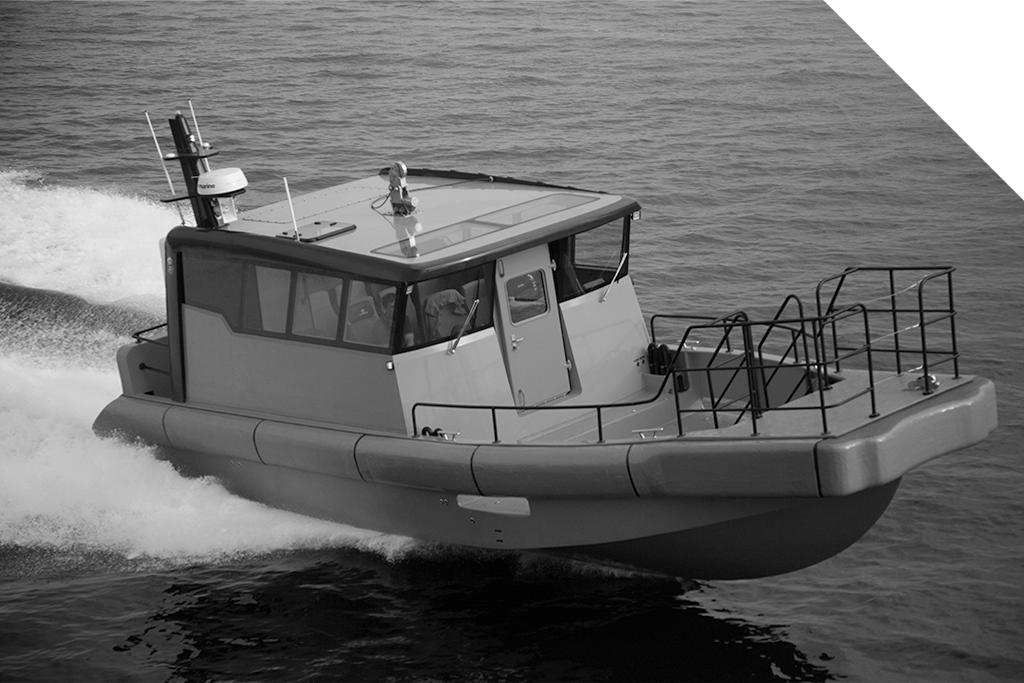 The ProZero series is a range of boats designed specifically for professional use. It is characterized by high resilience and energy efficiency. Through centuries, Denmark has been a nation of proud maritime tradition. The small country surrounded by water for many years had its primary maritime activities focused on local fishermen and shipping between the islands.
Today Denmark is the fourth largest maritime nation in the world and the industry is responsible for 10 percent of total global shipping. ProZero has its base in Denmark and draws from the experience and the traditional craftsmanship when designing and constructing modern vessels that live up to the high demands of the professional clients.
The vessels of the ProZero series have been designed and constructed for sailing in the extreme conditions that characterizes work at open sea. The range of the ProZero series covers Fast Rescue Boats, Daughter Crafts, vessels for Military & Police and Workboats.
The ProZero concept has been developed from the well-known Tuco Marine Guard-series.
The vessels of the Guard-series have been produced for more than a decade, and have been delivered to some of the most demanding professional customers, such as the Offshore sector, Military, and Search and Rescue Services. All vessels in The ProZero series are built to meet the <br> demands of classification societies.
Far and wide – support is always within reach
The reliability and speed of our products is echoed in our range of support services. We are committed to act fast whenever a customer needs us. We appreciate the significance of constant operational capacity, and Tuco Marine's Spare Parts and Service Team helps to intercept unexpected downtime and keep productivity at a maximum. The team is staffed by some of the most skilled technicians in the industry and they work to ensure the highest possible level of technical support for our clients.
Integrating the best equipment. Beyond that, we have long-lasting relationships with OEMs. We collaborate with key vendors from the early design phase to integrate the best features into the building process. This way we create a safer and more comfortable boat for the crew. Our extensive product knowledge and our unique ties with the industry allows us to offer a high degree of availability and coverage – we extend our support far beyond what you might expect from a boatbuilder.
The ProZero series of workboats is the quintessence of years of experience. Building on well-consolidated technology and Tuco's long and productive history in the industry, the ProZero workboats provide unrivaled safety, performance and comfort.
We are the trusted supplier to many customers and have delivered vessels to both private organizations, shipyards and governmental institutions.
Construction with fiber-reinforced composites is highly suited for serial production. Tuco has developed an exceptionally efficient modular production method to fully exploit the advantages inherent in composite materials. To guarantee product excellence and quality uniformity across our range of vessels, female moulds are applied in the production of all ProZero hulls. This permits a very high degree of accuracy and consistency in the manufacturing process so that every single hull lives up to our rigorous quality standards. Production using high quality moulds outperforms any other building technique in terms of cost-effectiveness. Our modular production method enables us to integrate specific design requests and we cooperate closely with all involved stakeholders to deliver uncompromising quality and excellent products without sacrificing short delivery times.