Extreme Fuel efficiency, + 35 kts and short delivery time
The USV is developed for autonomous and remote operated surveillance and reconnaissance missions, with able space for instalment of various equipment. The USV is offered with the possibility to mount armour panels for protection for added durability. This truly offshore capable vessels shallow draft allows for coastal and river operations, and the proven seakeeping capabilities ensures secure operations at open seas as well.
Learn more of the technology in the below introductions video
ProZero 18m Patrol and Survey ASV - The Ultimate +35 kts fast Patrol and Survey boat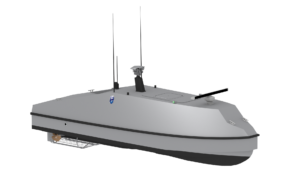 The boat is made of carbonfiber as a sandwich construction with PVC core material. This core material act as a natural buoyancy reserve material, due to its lightweight and zero water-absorption. Moreover, the sandwich construction avoids the use of internal stiffeners, increasing the usable internal space and offers natural insulation capability, improving the comfort in the cabin and manned compartments.